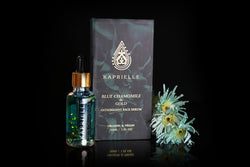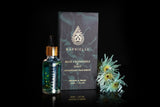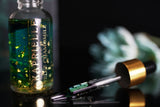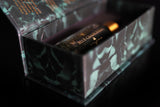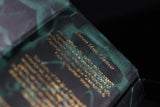 Kaprielle
Blue chamomile & Gold antioxidant face serum



Antioxidant Rich

Protects Skin From Aging
Anti-Inflammatory 
Heals Acne & Eczema

Gives Skin A Youthful Glow

Moisturizes, Soothes & Softens


3 Key Benefits:

Antioxidant Rich:
Packed with Antioxidants which protect the skin from aging
Aromatherapy Benefits:
Inhale the aroma of the serum for a feeling of pure relaxation
Anti-Inflammatory:
Blue Chamomile naturally contains Azulene which heals inflamed skin conditions including acne & eczema leaving you with a calm and flawless complexion.
The fusion of the Blue Chamomile essential oil, 24K gold, butterfly flowers, bergamot essential oil, sage essential oil, jojoba oil, and vitamins E & C work together to topically promote antioxidant defense by reducing inflammation and calming the skin. 

The aroma molecules of the essential oils are inhaled during application providing aromatherapy benefits which reduce stress and promote relaxation.
Earth's Richest Botanicals - all organic, vegan, non-toxic. This Divine Serum is Vegan, Natural and Contains Six Anti-Aging & Skin Loving Ingredients:
Carefully curated and combined, each one of the organic ingredients used in Kaprielle divine serum create a powerhouse potion leaving you with a calm, rested, and glowing complexion unlike any other.
24K Gold Flakes: Combats skin aging, tightens skin, brightens dark spots & increases skin elasticity

Blue Chamomile Essential Oil: Naturally contains Azulene which heals inflamed skin conditions including acne & eczema leaving you with a calm and flawless complexion, and is good for dry skin due to its purifying and nourishing properties

Butterfly Flowers: Protects the skin by being antioxidant rich, stimulates collagen, and synthesizes elastin

Bergamot Essential Oil: A natural cleanser and especially good for oily skin, unclogs pores and balances sebum levels, and provides significant stress relief with an aromatherapy rich profile

Sage Essential Oil: Moisturizing and conditioning properties help soothe dryness and irritation, eliminates toxins, provides relief to minor skin abrasions, and diminishes the appearance of blemishes, sores, swelling

Jojoba Oil: Soothes skin, moisturizes, eases eczema & rosacea

Vitamin E: Repairs damaged skin, diminishes scars & protects by keeping skins protective barrier in tact

Vitamin C: Potent antioxidant properties that aids in your skin's natural regeneration process
Use your Blue Chamomile & Gold serum morning & night. 
Shake well before use

Apply 5-10 drops on fingertips. Rub your fingers together to warm the serum. 

Dab fingers gently onto your skin until your face is fully hydrated.
Added use: apply with your foundation for a beautiful glowing effect