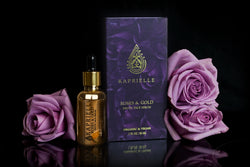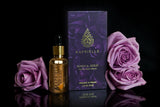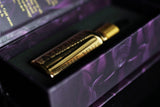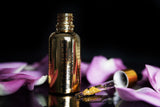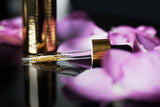 Kaprielle
Roses & Gold Exotic Face Serum
Firms & Tightens

Lightens Dark Spots

Reduces & Prevents Wrinkles

Gives Skin A Youthful Glow

Moisturizes, Soothes & Softens

At last, an exotic and luxurious face serum that is handmade with earth's richest organic ingredients. Infused with a beautifuling blend of Moroccan & Egyptian rose essential oils & pure 24K gold. 
The 24K gold combats skin aging, tightens, reduces wrinkles and fights acne. The small particles of gold absorb into the skin giving it a rich and youthful flow. 
The Moroccan & Egyptian rose essential oils prevent scarring, soothe and soften skin while their aroma molecules are inhaled during application providing aromatherapy benefits which reduce stress and promote relaxation.
Kaprielle skin loving Roses & Gold serum leaves you with a flawless & glowing complexion. All with ingredients straight from the richest, purest source - nature!
Earth's Richest Botanicals - all organic, vegan, non-toxic. This Divine Serum is Vegan, Natural and Contains Six Anti-Aging & Skin Loving Ingredients:
24K Gold Flakes: Combats skin aging, tightens skin, brightens dark spots & increases skin elasticity
Moroccan Rose Essential Oil: Calms redness & irritation, reduces blemishes & acne scars
Geranium Essential Oil: Reduces wrinkles, anti-bacterial, anti-inflammatory, anti-aging
Rosehip Seed Oil: Boosts collagen formation, protects against sun damage, hydrates & reduces hyperpigmentation
Vitamin E Oil: Repairs damaged skin, diminishes scars & protects by keeping skins protective barrier in tact
Jojoba Oil: Soothes skin, moisturizes, eases eczema & rosacea
Shake well before use
Put a few drops onto clean fingertips and gently apply on your skin
For best results use morning and night
Apply with your foundation for a beautiful glowing effect